The winner of Howard Dental Center's "Back to School Drawing"
is Mackenzie Mommarts! Mackenzie has won a $50.00 Target Gift Card for back to school shopping. Mackenzie is planning on sharing her $50.00 gift card with her brother, Riley. Dr. Brian presented Mackenzie with her prize!
Congratulations Mackenzie!
Pictured:
Sam, Riley, and our "2014 Back to School Prize Winner" Mackenzie
posing for the camera. Have fun shopping Mackenzie!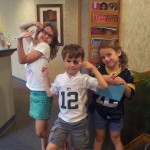 !