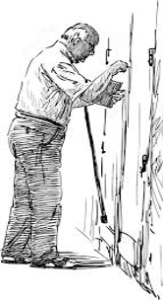 Being just a week shy of 36, I know I have many years ahead of me to practice.  But I can also say, confidently, how I would like my career to end.  Not with a great amount of fanfare but with a whisper.  I don't even expect that there will be a major sale, merger or acquisition…just a quiet closing of the door.
It won't all happen at once, of course.  But, in the later years, our already small and quiet practice will slowly become even quieter.  First to go will be the noise of the drill as we use it less frequently.  Then the sound of the sharpening of tooth cleaning instruments.  Finally, the sound of our suction will disappear.  The only sound that will remain is the conversation with our patients centered on the actions that they can take to keep themselves healthy.
You see, in our practice people will eventually bring themselves to a point where they have very little need for dental treatment or cleanings.  This is not because we have "fixed" them (though there may have been some repair along the way). We certainly can't take disease away from someone.  Instead it will be because of their own actions, guided by our team as their trusted partners and coaches.
Then one day, there will be no one on the schedule.  That day our friends will stop in to say hello and talk about their health.  But no one will oss the threshold from our reception area into our treatment rooms. 
At the end of that day I will quietly close the door and lock it one last time.  I will go home, hug my wife and thank her for all of the love and support that allowed me to pursue health with my patients for so many years.  Then, with our kids all grown, we will enjoy a quiet dinner and turn the page on this chapter of our lives and begin to write the next…..
Impossible! Some may say (and they may be right).  But If we are ever to achieve the true potential of our relationship, should I (as your dentist) aim for anything less??