February is National Children's Dental Health Month!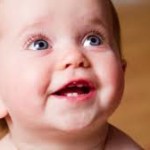 Howard Dental Center is offering a Complimentary Early Childhood Exam for children ages 1-3 years old during the month of February.
Bring your child in for a Knee to Knee Exam with Dr. Brian.
You will be given a Caries Risk Assessment Form to complete for your child to evaluate Risk Factors that may include:
• Presence of caries
• Presence of plaque
• Gingival condition
• Caries history
• Fluoride exposure
• Carbohydrate exposure – frequency, amount
• Socioeconomic status
• Dental care exposure
• Caregiver dental literacy
Dr. Brian will provide preventative recommendations if needed.
We will also send home with you the ADA pamphlet, "Your Childs Teeth" which contains helpful tips for parents and caregivers and a toothbrush teething ring or a tiny PipSqeak toothbrush depending on your child's age.
Schedule an appointment for your 1-3 year old's Knee to Knee exam today!